Phnom Penh, 03 October 2023 – AIA (Cambodia) Life Insurance Plc ("AIA Cambodia") today showcased their all-inclusive 'Digital Customer Experience' and its centerpiece, the new AIA+ app to underline their long-standing commitment to empower customers with convenient, user-friendly and secure financial solutions.
The app, which delivers the insurer's planning, savings and protection-related products and services, aligns with their purpose of helping Cambodians live Healthier, Longer and Better Lives. It also keeps to their customer-centric statement to 'Deliver first-class customer experience with clarity, courage and humanity – first time, every time'.

The launch by the Kingdom's leading life and health insurer was attended by Insurance Regulator of Cambodia (IRC) Director General H.E Bou Chanphirou, Chairman of Insurance Association of Cambodia (IAC) Mr. Huy Vatharo, AIA Group Regional Chief Executive Officer Mr. Tan Hak Leh, AIA Cambodia CEO Andrew Loh and company customers, stakeholders, partners, management team, Life Planners and staff.

AIA+ enhances AIA's digital assets that comprise the AIA website www.aia.com.kh, social media pages, agent applications, individual and corporate portals and Telegram. Taken as a whole, these provide an all-encompassing, seamless insurance journey while familiarizing customers with the company and its products and services.

The app caters to both Individual and Group policies. It empowers personal and corporate customers to effortlessly manage their AIA policies, facilitate claims, pay premiums, call or live chat with customer service on messaging service Telegram and perform other insurance-related transactions.

H.E Bou Chanphirou said: "I congratulate AIA Cambodia for diversifying their digital services and giving their customers another avenue to benefit from their solutions. They have continuously pioneered expedient, accessible and safe technology in line with the Royal Government of Cambodia and the IRC's vision of building a vibrant digital economy and society to further develop the Kingdom."

Mr. Andrew Loh said: "AIA+ makes managing AIA policies and conducting other related transactions easier and faster. It presents our customers an across-the-board, unmatched digital journey while enriching our overall offerings and commitment to help Cambodians live Healthier, Longer and Better Lives.

"AIA Cambodia will continue to embrace technology and uphold our customer-first approach. These go hand-in-hand and is testament to our promise of emphasizing best-in-class experiences while providing communities with financial solutions and services that create a difference to their daily lives."

AIA+ can be downloaded from the App Store and Play Store via this link https://bit.ly/AIAPlusCambodia or scan the QR code below: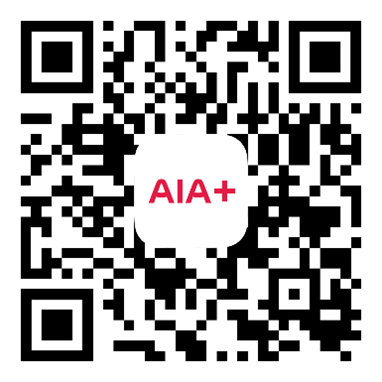 For more details on AIA+, please email kh.marketing@aia.com. For information on AIA Cambodia's comprehensive life, critical illness and accident solutions as well as medical coverage, do contact AIA Client Care at 086 999 242, visit aia.com.kh or browse www.facebook.com/AIACambodia.
About AIA Cambodia

AIA (Cambodia) Life Insurance Plc ("AIA Cambodia") is a member of AIA Group Limited, the

largest independent publicly listed pan-Asian life insurance group with branches and subsidiaries in 18 markets. 
AIA Cambodia is guided by our purpose to help Cambodians live Healthier, Longer, Better Lives. Since commencing business in 2017, we've become the first life and health insurer to provide
coverage on 26 critical illnesses. As among the Kingdom's premier insurers, AIA Cambodia today offers market-leading life and health solutions for all walks of life ranging from tailor-made crucial coverage plans that include critical illnesses, accidents, medical insurance and overseas emergency assistance.
We focus on building an inclusive society that benefits from a healthy lifestyle, achieving this via community-first initiatives that include partnering the Ministry of Women's Affairs to further empower gender equality and women's rights and raising breast cancer awareness through our annual Fit for Hope campaign.  

AIA Cambodia also uplifts thousands of underprivileged children by sponsoring the AIA-ISF Youth League – Cambodia's largest grassroots football league. We collaborate with AIA's global principal partner, English Premier League club Tottenham Hotspur, to ensure these children receive the education they deserve.  
AIA Cambodia is the only Cambodian life and health insurer awarded HR Asia's "Best Companies to Work for in Asia" for three consecutive years, from 2020 to 2022. Headquartered in Phnom Penh, the company currently has branches in Siem Reap, Kampot, Kampong Cham and Battambang.